Outdoor Learning
Outdoor learning is a very special part of what we do at All Cannings School. Outdoor learning does not simply mean 'taking your classroom outside', it means using the outside as your
classroom. It offers all learners the opportunity to achieve and develop confidence and self-esteem through hands-on learning experiences in the outdoor environment.
The 6Rs (relationships, resilience, resourcefulness, respect, responsibility and reflectiveness) are continually used in an outdoor learning session where children are challenged to solve problems and develop their creativity and interests. All the Year 1 children have been participating in outdoor learning on a Friday afternoon - no matter what the weather. The children have done a variety of activities from making bird feeders and binoculars to which we were all camouflaged in the playground and participated in some bird watching (lots of pigeons were spotted and amazingly a few golden eagles?). We used sticks to make our own stickmen, we used natural resources such as sticks, leaves, stones, bricks, to make our very own life size Gruffalo. We have also used the parachute to ping leaves into the sky and played some fun games such as hide and seek around the field and stuck in the mud. We have also had fun playing in the Mud Kitchen which Mrs Turnbull's Dad kindly donated his time in making for us out of recycled pallet wood. The Mud Kitchen offers us an opportunity for the children to explore natural elements and find out what happens when you mix two together, for
example rain water and mud. The children also get to used to their amazing imaginations and communication skills. The children are expected to wash the apparatus used on the Mud Kitchen when they have finished – this is teaching them basic life skills of respecting our belongings.
Outdoor learning is the perfect opportunity to develop motor skills, be it gross motor skills such as running around, or fine motor skills such as binding sticks together. It is also a hands-on approach to learning about topics. Outdoor learning can be linked to all areas of the curriculum for example:
Maths – Shape, space and measure, Problem solving, Counting.
English – Vocabulary, Oracy,
Science – Natural materials, Mixing of materials, natural habitats and life cycles.
Art – Creativity, colours, interpretation.
Geography – Learning about our community and comparing to other places.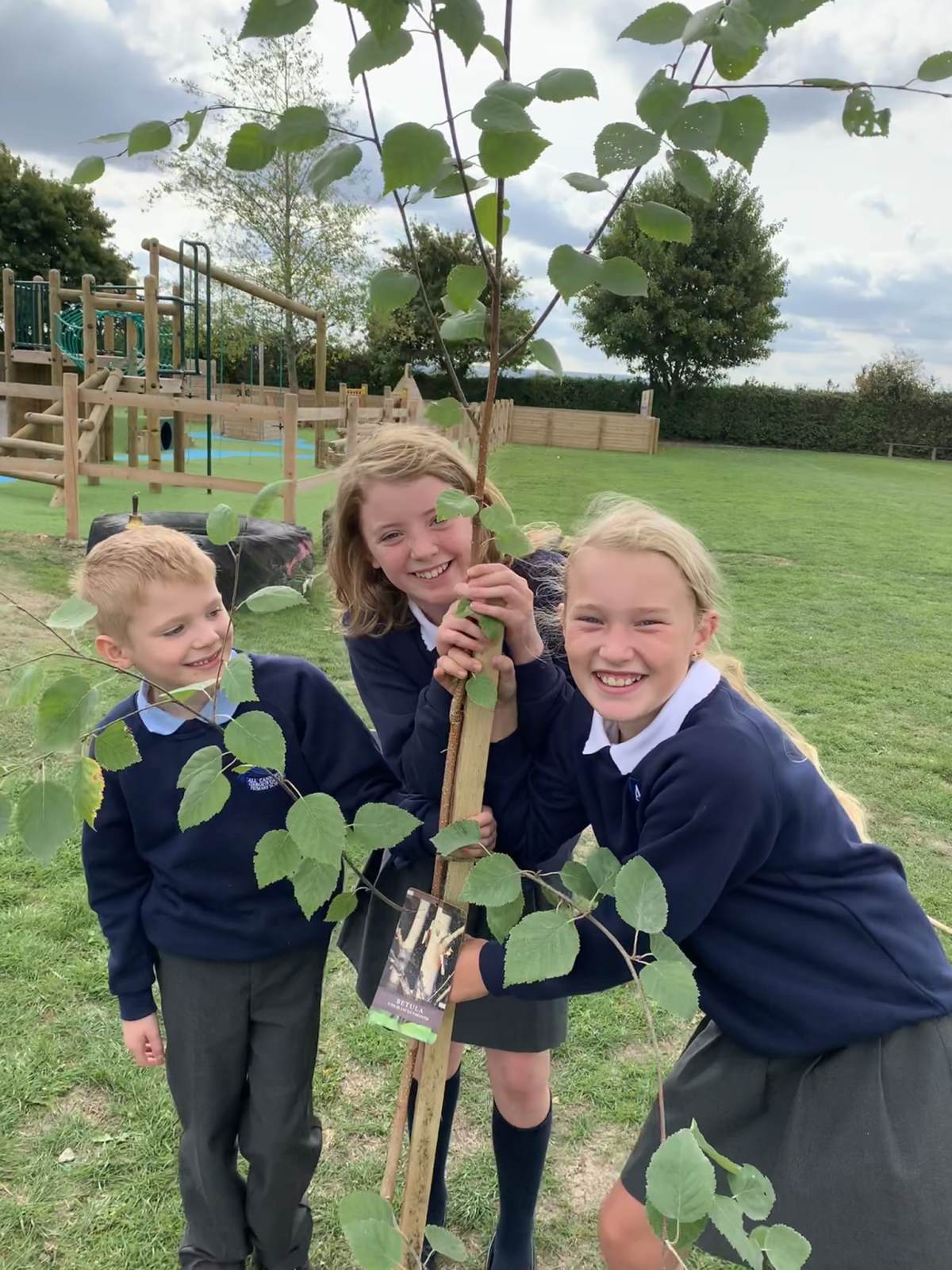 At All Cannings our 6Rs are consistently used throughout outdoor learning and we will now introduce our Christian values, making sure the children understand what they have done to show that value or 6R.
In 2021 the school earned the Woodlands Trust Green Tree School Award whilst completing their outdoor learning lessons. As a reward the school was sent a variety of saplings to plant, which the children planted around the school grounds.
This year Classes 3 and 4 have been enjoying outdoor learning with Miss Shergold and Miss Hawkins. They have been creating art from things found in the environment and when we found we had a plentiful supply of apples and pears on the trees in the wild area, the children made delicious crumbles which they took home to share with their families